LED Lighting technology is here to stay. LED replacement bulbs are now available for most lighting applications and smart homeowners and businesses are making the switch to LED bulbs for one simple reason: COST SAVINGS!
Yes, the initial purchase price of LED bulbs is higher than for incandescent bulbs. But when you factor in the electric cost to run incandescent bulbs vs. LED, the argument becomes compelling. LEDs produce the same amount of light as incandescents (called "lumens"), but using ten times less energy. So, when you replace an incandescent bulb with an LED, you are getting the same lumens output for just 1/10th of the energy use – and cost. And since the average kilowatt/hour rate in New York is 11 cents, the savings start adding up as soon as you turn on the lights.
LED bulbs are rated to last at least 25,000 hours vs. incandescent bulbs that last only about 2,000 hours. Homeowners and business owners who consider the replacement bulb cost and the electrical cost of burning an incandescent bulb for 25,000 hours are replacing with LED bulbs in multiple locations to save even more money.
Wolberg Lighting Design & Electrical Supply stocks LED replacement bulbs for most residential and office applications. Stop by our one of our stores and talk with our LED experts. They will fill you in on all of the benefits of LED Lighting and demonstrate the superior quality of light and other features available with today's LED Lighting products.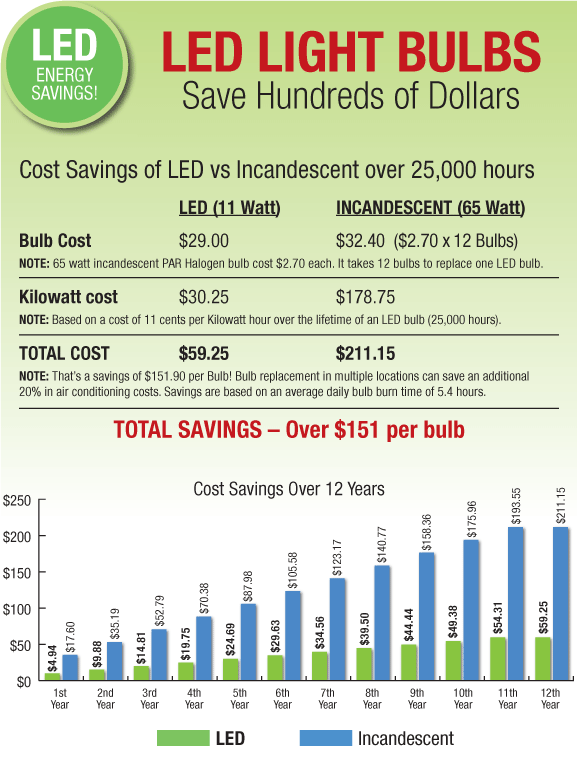 Modern Forms – To perform like nothing else.
WAC Lighting, a leader in solid state lighting, presents Modern Forms, a new lighting company focused on providing quality interior and exterior LED lighting.
New LED technologies have revolutionized what is possible for modern lighting design. Luminaries have become cleaner and sleeker than ever before, all the while achieving a new standard for energy efficiency.
Conceived through the genius of time honored principles, Modern Forms combines cutting-edge technologies with the natural appeal of the golden ratio. The result is a premier brand of LED luminaries that provides dynamic lighting solutions for any modern space. Visit one of our three showrooms for all you LED lighting needs.





Add an instant dash of style to your existing décor – simply by changing the lamp shades on your table lamps, floor lamps, chandeliers or fixtures! Our simple guide takes you through the steps to picking the style, fabric and color that's right for you.
Rule 1: Don't Buy the Same Old Thing
Most lamps or fixtures can look good with a number of different shade shapes and styles. So don't just automatically buy a new shade that's exactly like the one you're replacing.
Rule 2: It All Starts at the Top
A new shade can make a lamp look classy or simple, bigger or smaller, change it from traditional to contemporary, and add just the right amount of drama, flair or elegance.
Rule 3: What's in a Shape
In general, a shade's shape should follow the contour of a lamp. This isn't a hard and fast rule, but it holds true in most cases.
So, for example, if the base has curves, go with a curved shade shape. If a base is straight, choose a shade with straight edges, even if they're angled.
Some other shape rules-of-thumb to consider:
Bottom-heavy lamps can be made to appear lighter by the addition of cone-shaped shades on top.
Square lamps take square shades, round lamps take round.
Lamps that incorporate round and square elements can take a square shade or a modified square shade.
Rule 4: Shapes Part 2 – Look at the Details
The way a shade is shaped can also be a factor.
Fluted shades say elegant, refined and traditional.
Pleats are more casual and homey.
Scalloped edges imply a relaxed, gracious mood that' perfect for bedrooms.
A bell shade is a highly adaptable, chameleon look, capable of fitting in a wide range of décor schemes.
Rule 5: Color
Shades have traditionally been white, simply because they let the most light through and are the most functional at illuminating an entire room.
But color definitely has a role. Black or colored shades direct more light down, adding drama and pools of light throughout a room for a sophisticated lighting statement. Or you could mix and match shade colors in a room for added visual excitement, or choose colors that don't blend into the background wall treatments.
Some color tips by lamp base type:
Crystal Bases work best with white shades.
Polished Brass demands white while…
Antique Brass looks better with off-white or cream.
Porcelain or Ceramic Patterns – try a shade that picks up a subtle background color in the base pattern. Taupe has long been one of our top selling colors.
Wood and Iron can be matched with just about anything, but for a more contemporary look go white or try a fabric earth tone.
Color on Color – try a gold shade on a gold lamp, red on red and so on for visual punch and pizzazz!
Rule 6: Fabric
A shade's fabric can blend in with a room décor or boldly stand out, depending on the design statement you are trying to make. But there are some tips to keep in mind.
Silk shades look best in formal rooms or intimate bedroom settings. By contrast, linen, parchment and textured looks have a more casual, rustic feel that's well suited for family rooms or dens. Hand-sewn or hand-painted shades add intimacy and softness to a room scene.
Rule 7: Accents
A new trend is toward crystal beaded accents or trim, which lend additional sparkle and brightness to a room. Depending on the base and the level of decoration, such shades can be casual comfy to tre chic!
Other shades accents include fabric trim, colored glass tassels, leather trim and even feathers.
Rule 8: Proportion
Set a shade next to a base. Ideally, the shade should be 2 to 3 inches shorter than the base. A shade is at the proper height when just a half inch of the lamp neck (the part of the base just below the socket) is showing. Avoid choosing a shade that fails to cover the socket's underpinnings.
And remember that when the lamp base is highly decorative, keep the shade plain. When a base is plain and unornamented you can safely add a fancier, splashier shade and still keep an eye-pleasing lamp / shade proportion.
Rule 9: Rules Are Made to Be Broken!
Trust your own eye and personal tastes. After all, you have to live with and be pleased with your décor choices. If it works for you, go with it.
Need help choosing a shade that's right for you? Contact us for design ideas and product recommendations.
So you've decided on a chandelier and placed an order.what now? For starters, remember that lighting from a chandelier, no matter what the setting, should make a room, people, home furnishings and prized possessions look their very best. So it's important to hang the chandelier in the right spot and at the proper height for
maximum impact.
A chandelier in a dining room setting should be positioned in the center of the dining table and room proportions.
Avoid purchasing chandeliers that are larger than the width of your table, as people may bump into it when getting up. A handy rule of thumb is that a chandelier should be 12 inches narrower than a table and have at least 48 inches of space from each of the room walls or edges.
Hang a chandelier approximately 30 to 34 inches over a table with an 8 foot ceiling height. If your ceiling is higher than 8 feet, mount the chandelier an additional 3 inches higher for each foot of ceiling.
Keep in mind that lighting from a chandelier that beams directly onto a person from above can cast unflattering facial shadows. The heat from bulbs directly overhead can also be uncomfortable.
Avoid high wattage bulbs. They will increase the heat and cause excessive table glare.
Try adding shades to chandelier candelabra bulbs or a wall dimmer to help you control the light and set a more flattering mood.
When a chandelier has no central downlight, you can enhance the dining room table setting and centerpiece by using recessed adjustable fixtures with narrow beam bulbs. Aim these bulbs at a dining table centerpiece to create additional visual interest in conjunction with the chandelier.
  In an open lobby or larger foyer setting, a chandelier can provide an important transition from outdoor to interior spaces and set the mood for your entire home. Hang the chandelier high enough to illuminate stairways or side passages; about knee-level of the upstairs landing is a good standard.
Chandeliers in a lobby setting can be wider or taller than dining room pieces so that they comfortably fill a space without appearing too small. You should also allow for at least 6 1⁄2 feet of clearance from the floor.
Pendant chandeliers for kitchen islands and dinette tables demand a little different approach. Depending on their arrangement and number, position the pendant 30″ to 34″ inches up from the table surface.
Dress up the hanging wire or chain of a chandelier by covering it in a narrow sleeve of fabric. Fabric should be three times longer than the chain to achieve a gathered appearance. A great idea for holiday looks!
Now that summer is here, a lot of people are considering home improvement projects, but you don't have to tear down walls or rearrange the furniture to make a statement. In most cases, reworking the lighting is all it will take to transform a room from drab to fab.
"When people go into model homes and see what's in – the high ceilings, angled walls and dramatic lighting – they want to recreate those looks in their own homes, but run into limitations. Unless they're willing to spend a lot of money on renovations, they can't do anything about the shape of the room, but decorative lighting can be used to transform the space and create a sense of style anywhere," says Joe Rey-Barreau, educational consultant for the American Lighting Association and professor of interior design at the University of Kentucky.
Rey-Barreau travels the country tracking lighting trends, and believes one of the reasons decorative lighting has become so popular in the past two or three years is because it allows you to easily add a modern touch to any room without having to make expensive upgrades.
Among the many options gaining in popularity, putting recessed cans in kitchen and living areas to better balance the light, installing track lighting above areas you want to highlight, putting up picture lights to showcase photos and artwork and adding pendants that will allow you to showcase a small area. These days, lights are being hung over islands and peninsulas in kitchens, and in rooms dedicated to entertainment, over bars and gathering spots in basements.
"When you think of a pendant, the image that comes to mind is probably a small, obscure fixture hanging from the ceiling to light a specific area, but these days they are anything but obscure," says Rey-Barreau. "They are fashion statements."
Pendants are now available in all shapes, sizes and looks ranging from traditional to eclectic.
"The pendant offerings we have found our customers reacting favorably to have been those with a color pallet consistent with an Asian Fusion, Retro and Tuscan/Mediterranean style. Those utilizing calming neutrals with clear hues infused with light are popular as well," says Cory Echito, product development manager for Juno Lighting Group in Chicago.
Shelly Wang, general manager for W.A.C. Lighting in New York, says the hottest sellers right now are small pendants featuring colored and multi-colored glass. "People are seeking out the most unusual fixtures they can find and putting them up not just for the purpose of lighting a room, but also to be conversation pieces," she says.
Pendant fixtures made of metal can give a room an almost gothic look. Ceramic fixtures can be painted any color under the sun.
"If you're looking for a more unique look, a popular material to go with is Murano glass that is hand-blown in Italy," says Ray-Barreau. "Each one is an original work of art."
Some Murano fixtures feature a single color of glass blown into a bell- or bowl-shaped fixture. Others are tapestries of color twisting and turning into unusual shapes. Once you hang the pendant up and add a light bulb, color dances across the ceiling or wall where the light is pointed.
Just as varied as the colors and materials available for pendants are the methods of display. "A lot of people are putting up not one, but two, three or even four pendants in a circle or row to emphasize a space," says Pfeiffer. "Some people hang each of them from single channel fixtures. I've also seen them displayed on tracks."
What's the fuss? You walk into a room; flip a switch. Light. You walk out; flip. Dark.
Sure, it works, but you are missing the big picture. Lighting isn't just there to make sure you don't trip over the roller blades in the middle of the floor.
"With a few easy changes it can enhance the décor of any room and set a mood unique to any situation. And, it can save money in the process," said Larry Lauck, vice president, communications for the American Lighting Association (http://www.americanlightingassoc.com) in Dallas, Tex.
"Dimmers give us complete and intimate control over our lighting systems," says Dan Blitzer, the American Lighting Association's (http://www.americanlightingassoc.com) consulting director of continuing education. "I say complete because it allows us to adjust the intensity of the light to meet the needs of different individuals and different tasks, to warm the color, and to extend the life of incandescent lamps."
Such control allows the homeowner to set a mood in any room, not just the dining room. Adjusted lighting is ideal in a living room, bedroom, bathroom, and breakfast nook—nearly anywhere. The only rooms that may not benefit from dimmers are laundry rooms, storage areas, and pantries. Basic dimmer controls are simple to install in any existing or new setting, but there is more to the dimmer than the common knob-style.
"As a category, lighting control is virtually unknown," says Suzanne Miller, manager of public relations for Lutron (http://lutron.com/) in Coopersburg, Pa. "But not being able to control your lights is like not being able to control the volume on your TV, or the temperature in your oven. People want choices, they want control—and that includes being able to control lighting levels in their own homes."
Lighting controls come in four different types:
* Integrated dimming systems allow the most variety. Homeowners can create several preset lighting settings in a single room. With the touch of a single button from a wall box or a wireless remote control, they can recall the pre-selected scenes.
* Touch dimmers create a lighting change with the press of a single button. One-touch recall allows the homeowner to return to the previous lighting level without resetting the light. Some dimmers also have a lighted indicator to show the intensity of the current setting.
* Slide dimmers offer manual control of the lighting in a room. Some also include a button on the plate so it is easy to return to the previous setting.
* Rotary dimmers are the ones most likely to conjure images of your Mom's dining room. The manual dial allows a homeowner to alter the lighting level by turning the dial. Some have push-button control to switch the light off while keeping the current setting in place.
It is also possible to control the lighting in your entire home by building in a custom system. This is the most cost-effective route, but it is possible to add a whole-house lighting system to an existing home. Wireless, infrared systems, and radio wave dimmers are available, and can go with you when you move. Another easy way to add the control of dimmers is an extension cord dimmer, which is a quick way to alter the light level of individual lamps.
Prices for lighting control systems vary based on their technology and the extent of their control. A single dimmer will cost a few dollars, but an automated system for the entire home will run in the $1,000s.
"Every incandescent light in your home should be connected to a dimmer," says Lauck. "Just so that you can get the benefits of installing the light the way you want it and take advantage of a dimmers ability to extend lamp life."
A dimmer's operation is fairly simple. It essentially limits the amount of electricity that goes to the light. Less electricity means less electricity costs. Using a lower wattage bulb can do the same thing but will not allow any lighting flexibility.
"The end result is you use less electricity," says Miller. "Dimming a light 10 percent cuts electricity usage by 10 percent and [that] generally has a direct correlation to cost. What's more, the human eye adapts to light so easily that you probably wouldn't even notice a 10 percent decrease."
Dimming controls will also extend the lamp's life, which will save you cash over time. It can also save you the hassle of replacing bulbs in hard-to-reach places.
"I think the real benefit is to lamp life," says Penny Henderson-Maher of Garland, TX, Lightolier's (http://lutron.com/) regional control specialist for the Northeast. "By dimming the light somewhat and turning it on with a soft fade, the lamps last a long time, like 3 to 4 years on a lamp that would normally last 6 months. That's really convenient because the light bulb always blows out when you don't have a spare.
"It's all sorts of drama, convenience, and comfort, and energy, and lamp savings all wrapped into one," she says.
Jenny and Clayton Reid of Lenexa, KS recently moved into a new house fitted with integrated dimmer controls in the main areas of their custom-home. "The architect suggested them because we had a vision for the lighting and we knew it'd look great with dimmers," Jenny says. "I really like how they fade out."
Light can dictate the activity in the room it is illuminating, according to Henderson-Maher. Wolberg light creates motion and a lot of activity. It's ideal for getting everyone going in the morning, but not for relaxing. For that, or if an intimate party is what you have in mind, keep the perimeter of the room a bit darker. The "campfire effect" will draw people to the brighter area at the center of the room. Trying to get folks to mingle at a large gathering? Brighten the accent lighting around the perimeter. It will encourage people to move around.
Experiencing the environments varied lighting can create is really the key to understanding its importance in a room's décor.
"It is one thing to say dimmers create an ambience," says Miller. "And it is another to see it for real. Why settle for 'on' and 'off' when you can have 'on,' 'off' and everything in-between?"
Upgrading lighting is one of the easiest ways to instantly update your home decor. And the most effortless way to change your lighting is by using table lamps. All you need to do is put a plug in an outlet and, voila, instant ambiance.
Joe Rey-Barreau, educational consultant for the American Lighting Association and professor of interior design at the University of Kentucky, says, "We've got probably the most diverse level of design and variety of styles that I have ever seen in the lighting industry and I think it's reflective of the general public's willingness to look at design as a main part of their life." People are more conscious of how they can improve their space, he believes, thanks to shows such as those on HGTV.
As the public has become more design savvy, says Rey-Barreau, it's given the green light for manufacturers to look at table lamps in a new way "which has created a tremendous explosion in design….The beauty of lamps today is just the extraordinary variety of style – shapes, forms, textures."
Metal finishes are "really exploding in the marketplace," continues Rey-Barreau, citing the variety of finishes from "very polished, brilliant finishes like polished steel to very, very subtle shades like bronze and pewter." Finishes tend to be more textured which, he says, gives lamps "a lot of personality and a lot of soul, so to speak."
Todd Langner, president of Kenroy-Hunter Lighting Group, a lighting manufacturer based in Jacksonville, FL, recently attended the High Point Furniture Show where he noticed several key trends. "The most obvious, which has gone on for at least three shows, and is most clearly here to stay, is the use of color." The two most popular color palettes at the moment are Caribbean-inspired with pale orange and aqua hues; and earth tones like burnt orange, olive green, and eggplant.
Dave Director, CLC, president of Connecticut Lighting Center, a Hartford-based retailer, agrees. "What we're seeing is a lot of color, particularly brighter colors, particularly iridescent-y kind of things. People are looking for color to give them that brighter look."
The other trend Langner observed is that "after years of being inundated with very goopy, drippy, fancy, over-adorned resin product that the industry has been pushing, the buyers have made it very clear that they want natural materials and simpler looks." Consequently, Kenroy-Hunter has been focusing on manufacturing lamps in wood, ceramic, brass, and slate.
Dave McKee, COO of Seattle Lighting, a retailer with showrooms in the Pacific Northwest, says that rich bronze tones and rich colors like reds are selling well as are natural materials like iron and marble. "There's been a general swing towards quality and natural materials," he observes.
Lampshades are getting more adventurous and whimsical, both in their shape and in the use of color. Years ago it was almost impossible to sell a shade that wasn't white or cream. Today darker shades are more popular, especially when used as accent lighting. "There's a lot of freshness in the shapes," says Langner, noting that they're veering away from the traditional bell form or pleats.
McKee notes that 60s style drum shades are "hot." "People are becoming more interested in shades," he says. "They're looking for variety, different treatments, and different fabrics." Rey-Barreau says that lampshades made out of paper have become very popular and that paper gives light a "wonderful texture." Murano glass shades are also popular.
The trend for shades adorned with crystal or beads "is pretty much gone," says Langner.
While table lamps can be used for task lighting, Rey-Barreau notes an explosion of "very, very small lamps" used for accent lighting and to "add ambiance." Their diminutive size allows them to be placed on non-traditional places like bookshelves and windowsills.
However, Kenroy-Hunter has taken the opposite tack when it comes to size. Langner says that his retailers are requesting lamps that are a little over scaled – perhaps in response to today's home which is getting progressively larger. Consequently, most of the company's table lamps are in the 30″ to 32″ range.
In the past people bought lamps and used them forever. Today, notes Director, more people are routinely buying lamps to update their décor – much like one would buy a new set of bed linens or pillows.
As Director notes, "The price of lamps hasn't gone up, it's gone down." That affordability has made it easier than ever for people to switch out their lamps periodically. It's not economically feasible for most people to keep up with the latest design trends by switching out high-ticket items like sofas, but by changing something like pillows and lamps one can instantly change the whole look of a room.
The first thing people notice when they walk into a space, says Director, is the quality of the light. "Lighting affects us in so many ways….When you flick on [a table lamp] your eye automatically goes to it because it's brighter than anything else in that space."
Rey-Barreau notes that there's even a formula by which one can determine how much lighting a room needs which is roughly two watts per square foot, so a 12 by 12 room would need approximately 300 watts — or four lamps with 75-watt bulbs. "As a minimum you should have three lamps per room," asserts Rey-Barreau, "because that really creates this nice triangle of light in the space."
Today, notes Rey-Barreau, people are willing to spend more money on their homes. "More disposable income puts more pressure on manufacturers to create more variety because people are saying 'I can afford it, I'd like to have the option of being able to buy it'."
Ultimately, says Rey-Barreau, "there's such a variety of styles and sizes it's usually possible, if you look hard enough, to find a place for a lamp and to find a fixture that meets your criteria."
Landscape lighting used to be simple. A few recessed cans lining the front path, a couple downlights tucked in the trees, and you were done. Not anymore. When it comes to the great outdoors, homeowners have seen the light.
"Today, people aren't just lighting up the walkways so they can see their way to the door at night, and putting floods near the garage. They're finding ways to illuminate the landscaping they've spent so much time and money on so they can enjoy it at night," says Joe Rey-Barreau, education consultant for the American Lighting Association (ALA) and associate professor at the University of Kentucky.
Rey-Barreau tracks the latest trends among lighting dealers and designers and says, "This spring, we're going to see a lot of changes in outdoor lighting practices. Landscape lighting is now being used as a means to extend living space so people can enjoy the best of both the inside and outside worlds. I see the focus this spring being on techniques that bring light closer to the house, and make the space more aesthetically pleasing in an unobtrusive manner," he says.
Gone are the days of the big, bold lanterns that used to line people's walks. Rey-Barreau says this year, the hottest trend will be to instead decorate with light from non-visible sources. Among the options for this: uplighting, downlighting and shadowing.
Uplighting is produced by shining a light up on a tree, statue or bench in the yard to highlight to give it definition, texture or even dimensionality. Downlighting is created by hanging the light source in the trees or from the rooftop and shining it on the area below. This technique is often used to improve visibility for security reasons. And with shadowing you use spot or flood lights placed at ground level, or in-ground fixtures placed in front of an object to throw its shadow on a wall behind it as a decorative feature.
Richard Lentz, president of Lentz Landscape Lighting in Dallas, Texas, says people's desire to enhance their outdoor living space has played a big role in his business in recent years. "People have come to realize it's a shame to just ignore all those great spaces they've created outdoors because it's dark outside, so they're hiring us to come up with ways to incorporate the landscape into their night life," says Lentz.
Two examples of how Lentz uses lighting to transform a space for his clients:
* Moonlighting Effect
For a courtyard off the dining room, kitchen or even a bedroom, it is possible to create a moonlight effect that makes it seem like the courtyard is part of the space. "In this situation, we would install a Mercury Vapor light that casts cool light high in a tree to create the effect of moonlight, and complement it with a halogen lamp that lights up a fountain, sculpture or bench in the courtyard," says Lentz.
* Lighting a Walkway
One of the most popular ways to light a walkway is with a runway effect where there are lights on both sides of the path, but Lentz says that distracts from the environment. "I prefer to filter light through the trees above to light up a sidewalk or steps. It gives you a real nice, natural effect."
While expanding living space and decorating with lighting are popular reasons to put in landscape lighting, security is also an important factor. Chris Primous, product manager for Progress Lighting says he's seeing a trend towards people installing lighting that will keep their homes bright and visible from the road.
"Just because the purpose of the light is security doesn't mean it shouldn't be decorative," Primous says. "You can use spotlights and flood lights to both light the area and accent prevalent architectural features of the home's structure or notable landscaping elements."
For instance, if the home has a beautiful stone facade, a grazing technique with carefully placed accent fixtures (ideally six to twelve inches from the surface) will bring out the texture to create a visually stunning picture from the curb. Similarly, tall columns can be highlighted by using closely placed ground-mounted spotlights or in-grade fixtures with very narrow sources that will really bring out the height and showcase the architectural features of the column.
Jeff Dross of Kichler Lighting points out, "People have come to realize that if you want your home's lighting job done right, you need to bring in a professional. As you get more creative people involved, it leads to more creative solutions and a better result. We're seeing a definite maturing of the field."
First impressions are everything, and outdoor lighting is a great way to add curb appeal to your home. The entry, porch, pathways and garage are all places where lighting can make a difference. From attractive outdoor ceiling fixtures to low voltage path lights, a variety of options abound which will add beauty, safety and security to your home.
Wall–mounted lights or lanterns are a popular option for the external entryway and a great place to start. These decorative outdoor fixtures can be mounted adjacent to the front door and come in myriad styles and finishes. Besides lighting the entryway, they can also be used to flank the garage door or illuminate a porch or deck. There are many styles to choose from and a variety of sizes are also available. Some manufacturers even group fixtures by collection, so it's easy to coordinate matching items.
Thoughtful placement of outdoor fixtures can highlight structural details like window frames, decorative trim or stonework. Positioning lights close to the wall will create a grazing effect, which reveals the texture and color of the home's exterior. Wall–mounted lights can also bring out texture by creating dramatic shadows. Use downlights or outdoor ceiling fixtures to focus light in specific areas, like the doorstep. Step lights can be used to illuminate a staircase leading up to the home, which creates a nice visual effect as well as enhances safety.
There are several options to keep in mind for controlling the light around the outside of your home. In addition to an outlet near the door for convenience, photocell switches or a timer should also be considered. A photocell will turn lights on when darkness falls and off again when daylight returns, while a timer can be set to turn the lights on or off at pre–set times.
Bulb choice is another important factor to consider. Clear bulbs should be installed in fixtures with clear glass, while frosted bulbs work best in fixtures with frosted or translucent glass. Rather than using one fixture with a high–wattage bulb, another option is to spread light evenly with several fixtures and lower–wattage bulbs.
Even before you reach the house, there are other outdoor areas where lighting can play a key role. Consider shedding light on a pathway or driveway for instance. Pathways can be lit with path lights positioned close to the ground or with post lights at eye–level. While post lights will illuminate a broader area, path lights focus the light where you need it. To create an evenly lit walkway, space path lights no more than 8 to 12 feet apart.
The yard or garden can also benefit from creative lighting choices. One suggestion is to back–light plants or lawn ornaments to accentuate them. In–ground spot lights can point light upward to bring out the details in plants and trees while cross lighting, which brings light from two directions, can create a dramatic effect when directed at objects like statues or fountains. Low–voltage lights are popular for lighting landscapes. These fixtures are long–lasting, unobtrusive and can easily be wired to one system. Offset path lights, cone lights, tree–mounted spot lights and flood lights are examples of low–voltage outdoor fixtures.
Today's kitchens are more than just places to prepare meals. In addition to its primary food function, this room ranks as the heart of the home and center of family activity.
"The kitchen has become the hub of the house," says Barry Levett, owner and president of House of Lights in Mayfield Heights, OH. "Families today truly live in the kitchen. Kids study there; parents pay the bills and write checks there; everyone reads the morning paper in the kitchen; families eat their meals there."
Such multi-tasking kitchens demand equally versatile lighting. Gone are the days when a single 100-watt fixture centered in the kitchen's ceiling was sufficient.
"I see people every day who are saddled with one light in the middle of the kitchen," says Dan Blitzer, consulting director of education for the American Lighting Association. "This means that everywhere around the perimeter, where most of the work is done, is done in one's own shadow. To make matters worse, the fixture is usually undersized, and we all need more light as we get older.
"Fortunately, kitchen lighting has gone through quite an evolution in the last few years—not only in the type and design, but also in the areas in which it is placed," he adds.
The right recipe for lighting your kitchen depends on the size and complexity of the room. Small kitchens may require only a central ceiling fixture and task lighting tucked under a cabinet. More elaborate kitchens will demand a blend of general, task and accent lighting.
"Lights have specific functions, whether it's to accent a specific area, create general ambience, focus on a task or wash a wall," says Monty Gilbertson, CLC, manager and buyer for Lighting Design by Wettsteins in Lacrosse, WI. "You are seeing all types incorporated into the kitchen."
Determine what you want the lights to do. "Lighting can be decorative or functional," says Steve Birdwell, CLC, salesperson for Bay Lighting & Design in San Francisco, CA. "It's hard to find fixtures that do both.
Functional fixtures will provide well-diffused general lighting perfect for moving about the room safely, peering inside drawers and cabinets, and performing chores. While large, surface fluorescents have been popular in the past, the latest looks revolve around recessed lights and low voltage, industrial styles, often with a metal finish.
Recessed downlights assure even illumination. Install them over the stove and sink areas to create adequate task lighting for cooking and cleaning.
"When you add new lights over the sink or stove, the whole areas comes alive," says Levett. "Those are the areas the where Mr. and Ms. Consumer spends lots of her time.
The kitchen table is another family focal point. A decorative pendant, operating with a dimmer control, will provide sufficient lighting.
"People want to make a statement by hanging a pendant, then backing it up with task lighting at the counter," says Gilbertson. "Today, there are options to suit every design style."
Pendant lighting also rates raves installed over islands or peninsulas. "Light over the island is not only functional, but beautiful," says Dent. "Even people who use recessed lights throughout the kitchen can introduce some color and style over the island. I personally prefer several smaller pendants."
Consider a decorative fixture with three lights. "A trio over an island provides good light," says Levett. "It breaks up the kitchen but you can still see through it."
The top trends in decorative finishes include wrought iron, often in rust or other earth tones. Painted finishes are also popular. Colored glass bypasses plain white in popularity. Pewter and satin nickel finishes replace the basic brass look.
"Pewter has exploded, whether the look is traditional or contemporary," says Birdwell. "It is the hottest trend in kitchen lighting decor."
No matter which light style you choose, be sure to light all corners of the kitchen. "Lights have beam spreads," says Gilbertson. "You want to position your lighting so that the light spills into all the areas of your kitchen. If you are spending the money on nice cabinets, for example, you want to make sure they are lit properly. If not, the light actually create gray shadow areas."
Lighting the spaces above and below the cabinets has become more important than ever. Available in slim, energy-efficient designs such as miniature track lights or low-voltage linear systems, under- and overcabinet lighting quickly and easily lights up counter tops and accents ceilings.
"Under-counter lights have gone from option to necessity, with the advent of larger kitchens," says Blitzer. "Halogen gives good color rendition and the ability to dim, with none of the humming and swirling of fluorescent."
Over cabinet lighting emphasizes tall ceilings. "Today, many cabinets don't go all the way to the ceiling," says Levett. "By adding light above them, the result is a more spacious feeling."
Halogens offer consumers a whiter, more accentuating light. "Halogen provides great drama in the kitchen," says Levett. "Used undercabinet, it electrifies the look of granite and marble countertops. It even makes food look better.
"The big deal years ago was to have fluorescent undercabinet lights," he adds. "Now the consumer has a myriad of choices and the quality of lighting options is extraordinary."
The kitchen "office" or workspace is the latest trend in need of good lighting. Sometimes these are desk areas for paying bills or copying recipes. More often than not, however, they include a computer.
"Computer workspaces in the kitchen introduce a new twist," says Dent. "Remember that the computer itself is illuminated, so you need to light the paperwork, not the computer itself."
Every kitchen is individual and task lighting here depends on cabinet layout and computer location. Too much light can wash out the screen.
"Consider a fluorescent task light for the computer," says Birdwell. "Be sure to cover the key board and work materials."
Halogen undercabinet lighting offers another option. "Sometimes, there is not enough space for a wall light or a table top lamp in this workspace," says Levett. "But a small halogen desk lamp might work well, putting the light where you need it."
No matter how many lights you install in your kitchen, the experts recommend circuiting them separately so the lighting is zoned. This allows you to create ambience by mixing the various lights you turn on.
"Lights above the cabinets should be soft and low-voltage," suggests Gilbertson. "The light over the sink should have its own switch. Same with the lights over the island and those over counters. You will be pleased with the results."
Visit your local American Lighting Association showroom to view the variety of light fixture styles, sizes and shapes available for creating the perfect kitchen.
TOP TIPS FOR LIGHTING YOUR KITCHEN
Creating the best lighting design for your kitchen is like cooking a great meal. You have to have the right recipe and the proper ingredients.
To make sure you cook up the best lighting scheme for your kitchen, use a lighting professional. "There are many ways to light a kitchen, some better than others," says Monty Gilbertson, CLC, manager and buyer for Lighting Design by Wettsteins in Lacrosse, WI. "That's why you need a lighting specialist—to help with location, style, and whether or not to add dimmers. There are a lot of things an expert can bring to the party and make any room in the house more livable."
The biggest mistake is not having a good mix of lighting that meets your needs. "When you talk to someone who doesn't really know what's new in the business, you may end up with only recessed can lighting," says Barry Levett, owner and president of House of Lights in Mayfield Heights, OH. "Recessed lighting is great for creating a blanket of light, but not for bringing light specifically to where you need it."
Sometimes too much of a good thing can be too much. "I have seen people not sure about what to do with their lighting keep adding recessed lights, instead of mixing the various lighting types," says Steve Birdwell, CLC, salesperson for Bay Lighting & Design in San Francisco, CA. "The result is that they kill the room with too much light."
When visiting a lighting showroom, be prepared. Bring a picture of your kitchen, if possible or at least know your kitchen dimensions. How tall is the ceiling? Where are the doors? How much space is there between the cabinets and the ceiling? How much space is there between the cabinets and the countertop?
If you are building a new kitchen, bring in a layout. "With new construction, we sometimes hear "This isn't exactly how the kitchen will be but it's close." says Gilbertson. "But we need to know where everything will be—counters, cabinets. It's critical to where you put the lights."
If you are planning to update an existing kitchen, tell the lighting expert how much deconstruction you want to do. "If you are tearing the ceiling out, that is important to know because then we can add recessed lighting," says Gilbertson. "If you don't want to destroy the ceiling, then we have to go a different way with mounting installations."
Consider asking the lighting professionals to make a house call. "Sometimes it's easier when you see the physical space," says Gilbertson.
Once you have the plan in place, use the same color bulbs throughout the kitchen so that the tone of the floor, counters and cabinets will all be the same intensity.
For more information, visit the ALA web site at www.americanlightingassoc.com or call toll free 1-800-BRIGHT IDEAS (1-800-274-4484).
The American Lighting Association is a not-for-profit association of leading manufacturers, retail lighting showrooms and sales representatives in the U.S. and Canada dedicated to expanding public knowledge about lighting.